Date Available: May 22, 2019
Activity time-frame: 1:00 pm – 4:45 pm
*Loading begins at 12:45 pm and the bus will depart promptly at 1:00 pm. The bus will be located outside of The Nines hotel and staff will be on site to direct you to the buses. Please exit the front doors of the hotel and look for staff members holding signs that say Fannie Mae- Distillery Tour.
Per person price: $126.00
Minimum group size: 10
Maximum group size: 10
Includes:
Transportation by mini bus or Sprinter van
Professional Tour Guide
Bottled Water
Spirits tasting
Snacks
*Everyone must wear closed toe shoes and must be at least 21 years of age to take tour. Please bring government issued photo identification for age verification at distilleries.
Loading…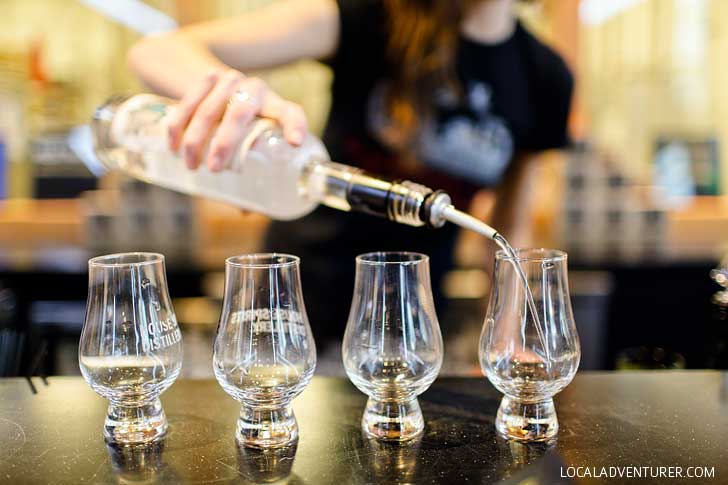 Experience Portlands craft distilling revolution! Visit three innovative  distilleries are making handcrafted, locally distilled spirits!

We will start with the education first and introduce you to the ingredients and tasting tips.We'll walk you through the tasting process so you can better enjoy spirits and explore new styles. At the 2nd location, you'll get VIP access behind the scenes to see the process and how the ingredients work together to produce the liquid love.  Next, you'll be ready for some eats! Food paired with spirits is the best way to enjoy a few bites. Our last stop will be a chill location where you can connect with your new friends, play some trivia with a chance to win a prize, while sipping on some of the city's finest spirits.
---
Tour Price Includes: Guest pick up and drop off, transportation, Tour Guide, and all applicable fees, unless otherwise stated.
Not Included in Price: Gratuity
Requirements: Each tour requires a 10-person minimum for confirmation of operation which can be met by multiple people booking. If tour is canceled due to not meeting the minimum required guests will be notified and refunded.
Payment: Reservations can be made on-line  with a credit or debit card. Payment will be processed immediately to secure your reservation.
Reservations: All reservations are final at time of booking.
Cancellation Policy: Cancellations made through April 9, 2019 will receive a full refund. Cancellations made after April 9, 2019 are non-refundable.
Terms and Conditions:
Other Entities: Viva! Events and America's Hub World Tours (AHWT) will not be held responsible for cancellations, changes to services/fees/price, conduct, of quality of goods and services for entities that operate under any name other than AHWT including, but not limited to: vendors, tour operators, vineyards and wineries, event staff, hotels, transportation companies, restaurants and entertainers.
Weather: Unless otherwise noted and specified all services are planned to operate regardless of weather. In the event of an "Act of God" and weather presents a safety issue AHWT will offer other tours to consider. There will be no reimbursements, full or partial, for inclement weather experienced during any service provided. It is the responsibility of the guests to be prepared for predicted weather and dress accordingly.
III. Conduct: AHWT assumes no responsibility for conduct of individuals other than its guides/employees/officers.
Indemnify: Except as otherwise prohibited by law each party shall indemnify and hold the other party harmless from all claims, actions, suits, losses, and expenses of any nature for its employees or subcontractors, breach of their agreement, negligence or intentional misconduct.
Insurance: America's Hub World Tours (AHWT), will ensure all tour operators and bus companies provide insurance coverage for all vehicles utilized while providing services.
No smoking or consumption of alcohol or intoxicating drugs is allowed in vehicles. America's Hub World Tours (AHWT) is not responsible for articles left in vehicles. A $200 minimum damage/cleaning fee resulting from customer misuse will be automatically charged. All passengers are responsible and liable for their own actions while in vehicles; neither the driver nor the company is responsible or liable for any injury or damage caused by, or as a result of any customer actions. America's Hub World Tours (AHWT) is not in control of traffic, and therefore takes no responsibility for time delays due to traffic.
The State of Oregon requires that all parents with children requiring car seats must use them. Minor-age passengers must be restrained in approved child safety seats until they weigh forty pounds or reach the maximum weight limit for the car seat in use. Infants must ride rear-facing until they reach both one year of age AND weigh at least twenty pounds. America's Hub World Tours (AHWT) does not supply car seats; if you did not bring one, your hotel may be able to recommend rental locations, and some locations will deliver to hotels.